Does the shape of your nose hinder confidence?
Are you affected by nasal birth deformity?
Have you suffered an injury or accident that affected your nose shape?
Do you want an attractive and elegant nose?
Rhinoplasty, also referred to as nose surgery, nose job, or nose reshaping surgery, efficiently addresses all the above nasal issues. Rhinoplasty improves the shape of your nose, breathing problems, and other functions of your nose.
If you're considering nose surgery, then do visit Asian ENT Super-specialty Hospital and consult the best ENT specialist in Visakhapatnam for safe, effective, and cost-efficient Rhinoplasty in Visakhapatnam. We are one of the renowned ENT hospital in Visakhapatnam for rhinoplasty.
Read on more to know about Rhinoplasty, its types, cost, and more.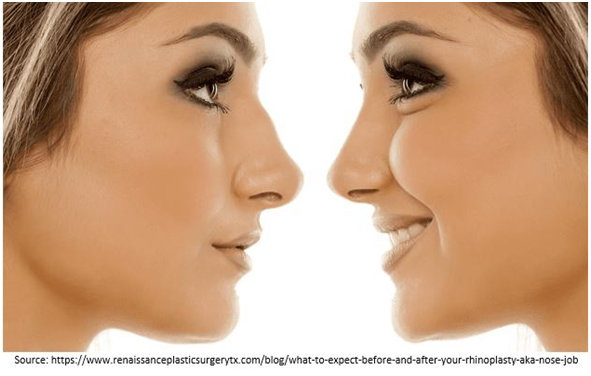 What is Rhinoplasty?
Rhinoplasty, commonly known as nose surgery, is performed on the nose to improve its shape or functions. Also, rhinoplasty has two kinds of nose surgeries, reconstructive and cosmetic.
Reconstructive nose surgery is correcting any medical problems or conditions resulting from any injury. These procedures help the patient to restore the structure and improve the functions of their nose.
Cosmetic nose surgery is more to do with changing the nose's size and shape to enhance the overall look or correct any birth deformities.
Who is the best candidate for Rhinoplasty?
You're suitable for nose surgery if,
You want to change the shape and size of your nose.
You have a nose deformity that needs correction.
Your age is fit to undergo nose surgery without causing any health complications.
You have genuine expectations from the surgery.
Which are the Types of Rhinoplasty?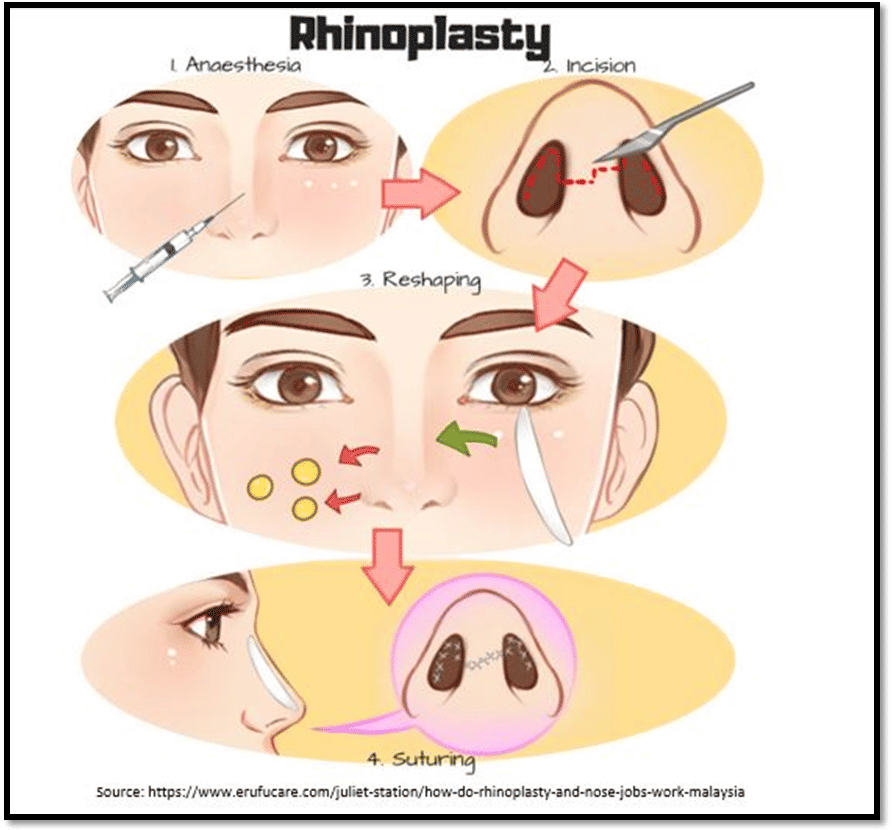 It is a scarless method that includes making incisions within the nostrils. This procedure gives limited access to nasal structures.
This surgery involves creating a small incision in the columella between the nostrils. Then making incisions inside the nose and smoothly raising the soft tissues that cover the nose. It provides full access to reshape the nasal structures for better results.
This surgery is usually preferred by patients who desire to make their nose shorter and smaller or reduce a hump on the bridge.
Non-surgical Rhinoplasty:
Non-surgical rhinoplasty does not require any incisions. Instead, it uses injectable fillers to change the shape and size of the nose. It focuses on the bridge, tip, and sides of your nose.
How is Rhinoplasty performed?
Rhinoplasty is an outpatient surgery and does not require a stay in the hospital.
At first, your surgeon will give general or local anesthesia for a painless and comfortable experience.
Once the area is well-numbed, the surgeon will create an incision in your nostrils. Then move the bones or cartilage as required.
Further, the surgeon will outline the underlying structure to the desired shape. The nasal skin and tissue are redraped to cover the nasal area.
After the procedure, the surgeon will close the incisions with sutures. Then, place a package or stent to ensure your nose does not move during healing.
The approximate time taken for rhinoplasty is around two to three hours. But it may differ with the complexity of the case.
Which are the Benefits of Rhinoplasty?
Enhances your nose appearance
Improves any nasal deformity
Bring a proportion to your facial features
Improves your breathing function
Boosts your confidence
What are the risks or side-effects associated with Rhinoplasty?
Before undergoing surgery, you should discuss the advantages and risks associated with nose surgery. However, if performed by any well-qualified and skilled surgeon, Rhinoplasty is a safe procedure. But it may include certain risks like:
Reaction to anesthesia
Loss of skin sensation in the treated area
Pain or swelling in the operated area
Difficulty in breathing
Bleeding from the nose
Infections
Slow recovery
Undesirable appearance of the nose
Permanent scarring
Why choose us for Rhinoplasty?
Asian ENT Super Specialty Hospital is the only sort of ENT hospital in Andhra Pradesh that comprehensively deals with the conditions and diseases of the ear, nose, throat, head, and neck.
Under the supervision and leadership of Dr. Pradeep Vundavalli, our Director, we have earned recognition for giving superior and evidence-based treatment.
Our state-of-the-art ENT Hospital in Visakhapatnam has a cutting-edge medical infrastructure, the best result-oriented treatments, highly qualified doctors, and committed staff.
Our ENT specialist in Visakhapatnam has the expertise and experience to handle advanced diagnostic, surgical, and audiology procedures. They have achieved more than a 98% success rate in surgical treatments.
We maintain the highest standard of excellence at reasonable costs. So, everyone can avail of high-quality ENT care. Hence, we rank in topmost positions when users search for the best ENT hospital near me.
If you're willing to change the shape and deformities of your nose, then Contact us to book an appointment online. Our ENT specialist will determine whether Rhinoplasty is the right choice for you.