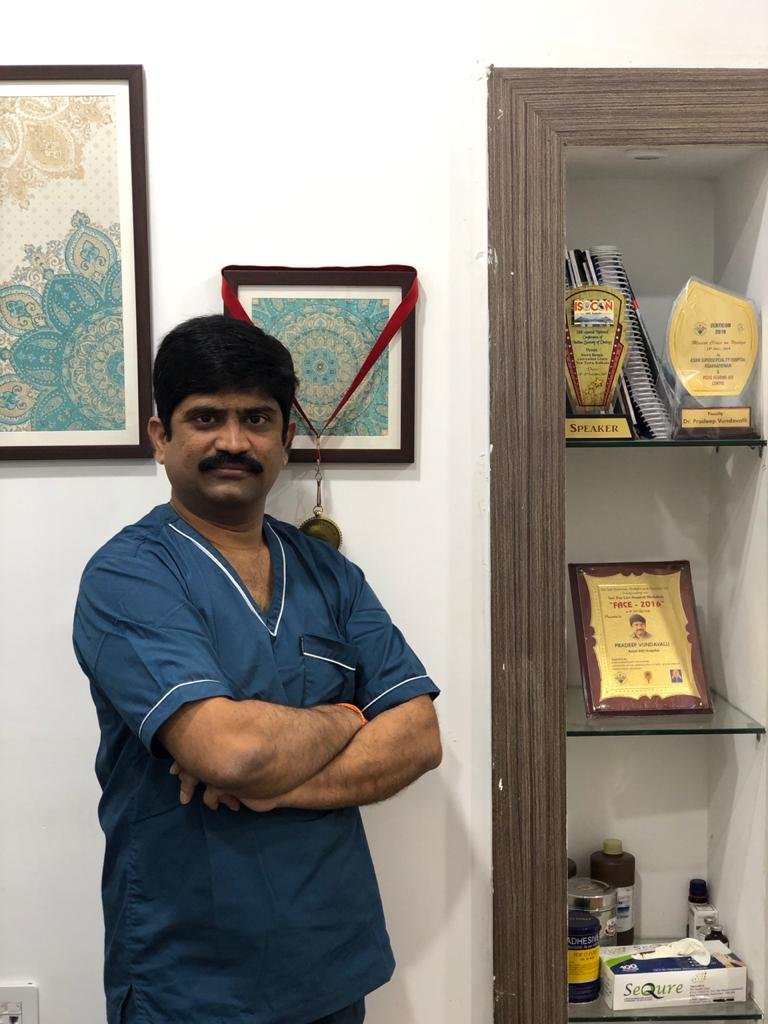 Dr. Pradeep Vundavalli
Qualification:
MBBS, MS (ENT)
Fellow in Otology (Bangalore)
Fellowship Diploma in Lateral Skull Base Surgery (Bangalore)
Trained in Neurotology and Cochlear Implantation (France)
ENT/Otolaryngologist
Experience: 10 years
Dr. Pradeep Vundavalli is a highly acclaimed and renowned ENT doctor in Visakhapatnam with ten years of rich experience in treating basic to advanced ENT conditions. He has built a formidable reputation and confidence in his area of expertise through sheer hard work and perseverance.
He is the founder of Asian Super Speciality Hospital, one of the best ENT hospital in Visakhapatnam, that exclusively deals with all simple and complex ear, nose, throat, head, and neck disorders.
His extensive training and a vast range of expertise allow Dr. Pradeep Vundavalli, a proficient ENT specialist in Visakhapatnam, to provide excellent care that exceeds his patients' expectations.
In his long and distinguished career, the doctor has successfully performed thousands of minor and major operations and is an expert in lateral skull base and retrosigmoid surgery. He has performed more than 1200 Traditional Tonsillectomies and 400+ Coblation Assisted Tonsillectomies, a no-bleed, painless procedure.
The doctor provides comprehensive vertigo treatment, and his hospital is the only place in Andhra Pradesh to offer a videonystagmography examination that helps to diagnose vertigo.
Dr. Pradeep Vundavalli is also well-known for his dedication and professionalism and treats patients from Visakhapatnam and all over Andhra Pradesh and Telangana. He is one of the most searched ENT doctors near me in the city.
He is the one you can rely on for all ENT problems. Dr. Pradeep Vundavalli understands the patients' concerns and caters to their needs most practically and effectively. His patients consider him to be one of the best ENT doctor in Visakhapatnam.
Know your doctor
Qualification:
Dr. Pradeep Vundavalli is a highly-qualified otolaryngologist/ ENT specialist in Visakhapatnam having several degrees to his credit.
After completing his MBBS from Andhra Medical College, Visakhapatnam, in 2005, he went on to pursue MS (ENT) from the same college.
After that, Dr. Pradeep Vundavalli did his Fellowship in Otology.
Later, he gained a Fellowship Diploma in Lateral Skull Base Surgery. Apart from this, he also pioneered the art of neurotology.
Dr. Pradeep Vundavall had the privilege of doing his surgical super-specialty training under the renowned Prof. Jacques Magnan's supervision in Lateral skull base at the University of Marseille, France, in 2012.
Further, the doctor has been invited as faculty and speaker for many national and international conferences.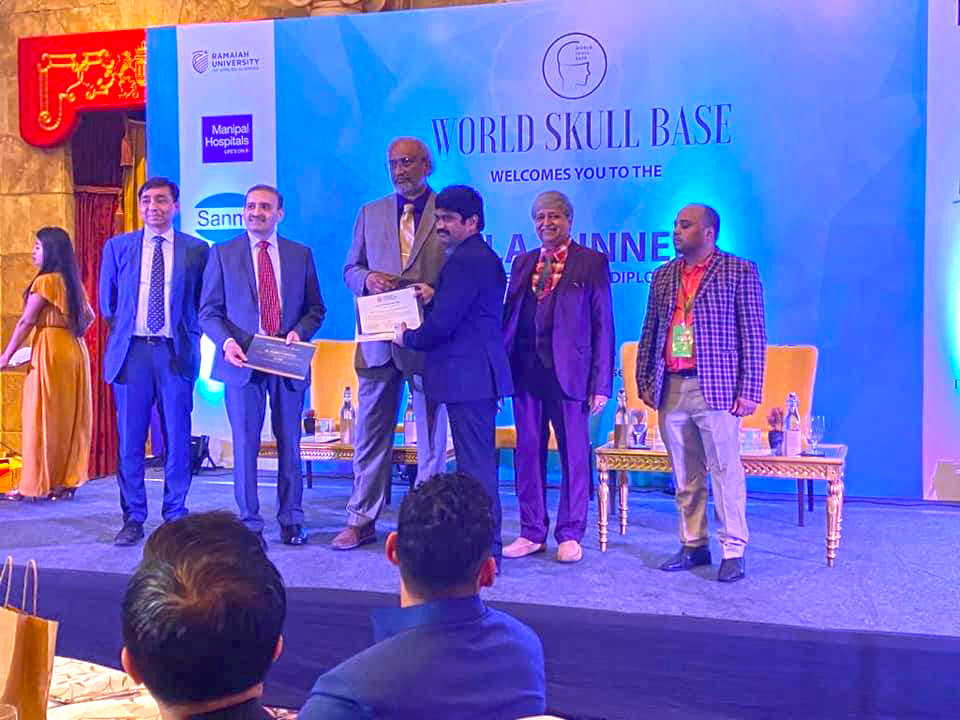 He secured the second prize for Politzer Award at Gran Canaria, 2018.
He also won the ISOCON 2017 Video Presentation award.
Dr. Pradeep Vundavalli has written several papers and has around six national and international publications to his credit.
His paper, 'Acquired Vertical Pendular Nystagmus- Role of Peripheral Vestibular System,' was published in Otology - Neuro-otology Journal.
Also, his paper, 'Updated management of Trigeminal Neuralgia,' was published as an invited article by the University of Varna, Bulgaria.
Membership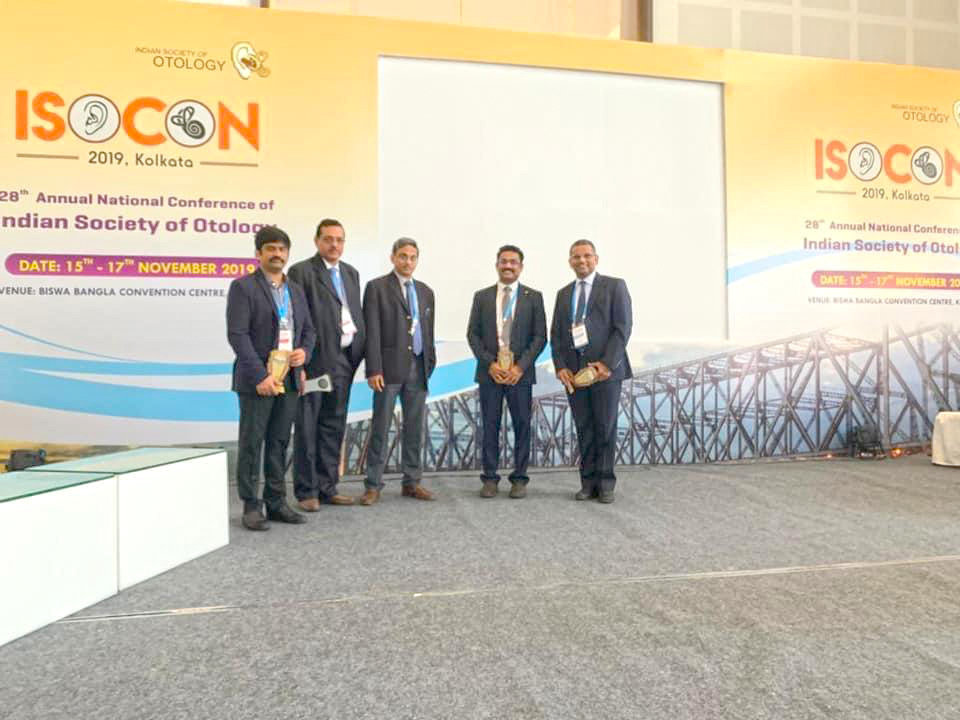 Dr. Pradeep Vundavalli, a leading ENT doctor in Visakhapatnam, is a member of many associations, including:
Member of Association of Otolaryngologists of India (AOI)
Life member of Indian Society of Otology
Indian Medical Association
National Equilibrium Society
European Association of Otorhinolaryngologists and Head and Neck Surgeons (EAORL-HNS)
Member of Politzer Society, Europe
Special Interest
Dr. Pradeep Vundavalli, a dedicated ENT specialist in Visakhapatnam, specializes in the following treatments:
Vertigo - It is a sensation of dizziness where you feel like you or the world is spinning around you. It mostly happens due to inner ear problems. Sometimes the condition gets so bad that it hampers your daily routine. Dr. Pradeep Vundavalli uses different treatment modalities to treat vertigo, such as medications, therapy, and other procedures.
Snoring treatment – Snoring is a common issue, but sometimes it indicates serious health problems such as sleep apnea. The doctor may suggest any one of these surgeries, somnoplasty, tonsillectomy, palate surgery, or an upper airway stimulator to correct the problem.
Nasal Allergy treatment – In some cases of nasal allergy, you may need medical intervention. The doctor offers the latest diagnosis and treatments for nasal allergy, including sublingual immunotherapy, sinus surgery, septal correction, coblation assisted adenoidectomy, and other procedures to correct nasal obstructions.
Endoscopic ear surgery - The doctor uses this advanced minimally invasive surgery to treat patients with ruptured eardrums, cholesteatomas, osteomas, otosclerosis, etc. This type of surgery causes less pain as there are no stitches or scars involved.
Retrosigmoid surgery – During this procedure, Dr. Pradeep Vundavalli removes a section of the occipital bone behind the ear to remove an acoustic neuroma, which causes hearing loss, dizziness, and ringing in the ears. It is a complicated surgery that requires experience and extensive training.
Thyroid surgery - The surgical removal of all or part of your thyroid gland is known as a thyroidectomy. It is used to treat thyroid problems such as cancer, noncancerous thyroid enlargement (goiter), and overactive thyroid (hyperthyroidism). Dr. Pradeep Vundavalli is the most searched ENT specialist near me for thyroid surgery in Visakhapatnam.
Aspiration of Dr. Pradeep Vundavalli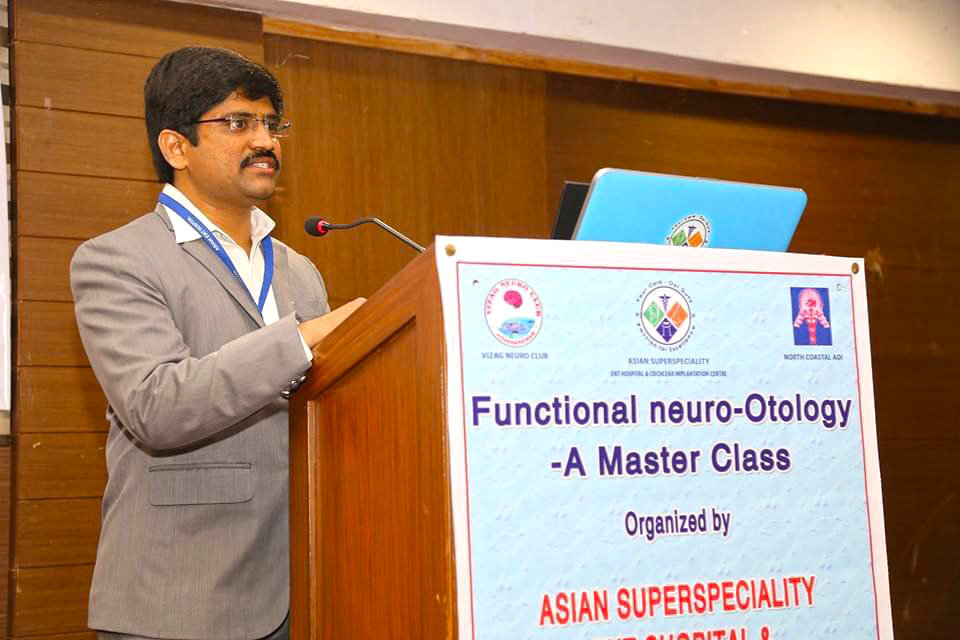 Vision
We are committed to providing the best possible treatment for all ear, nose, throat, and neck-related disorders and diseases. To realize this vision, we focus on patient education, clinical excellence, compassionate treatment, and the use of cutting-edge technology.
Mission
We contribute to our community's health and well-being by delivering the best possible hands-on treatment to each patient through our clinical care.
Vizag Hearing Aid Centre
Vizag Hearing Aid Centre is a one-of-a-kind clinic in Visakhapatnam dedicated to restoring people's hearing abilities.
Dr. Pradeep Vundavalli, a well-known ENT specialist in Visakhapatnam, and A. Snehlatadevi established this centre to assist patients with hearing loss.
The Vizag Hearing Aid Centre is the only centre that a Senior ENT doctor in Visakhapatnam oversees. It provides a wide range of hearing aids at a very reasonable price.
We can rectify hearing loss easily with a hearing aid. We have helped thousands of people overcome this problem at Vizag Hearing Aid Centre.
At our centre, we have various hearing aids of top multinational companies that are pioneers in this technology. We will assist you in choosing the most appropriate hearing aid by considering your hearing concerns, listening needs, and lifestyle.